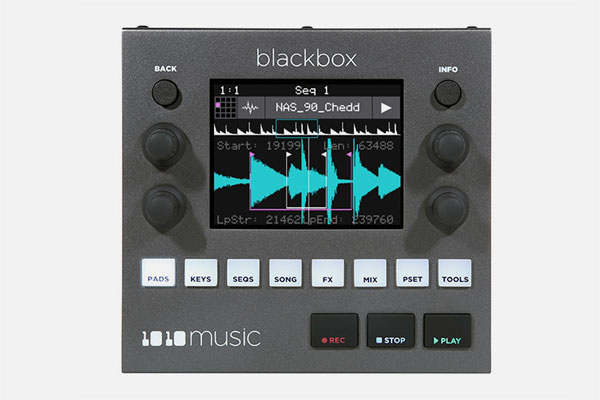 In Store
This item is available at our store. Ready for shipment.
Price match guarantee. If you find a cheaper price, we'll match it. Write us
Blackbox is a portable sampler and groovebox that lets you record, save/load, apply effects and edit one-shot samples and beat-sliced loops.
Create sequences with samples by tapping on pads, playing a virtual keyboard, using external MIDI controllers or by drawing-in notes using a standard Piano Roll editor on a fast touchscreen interface.
Sequences can be played back to create song sections and entire compositions. Finish your song by mixing it, adding stereo effects and by saving it as a Preset for fast and easy recall.
Features
Streams long samples from the microSD card with a max sample size of 4 GB
1 stereo audio input and 3 stereo audio outputs, plus stereo headphones output
16 note polyphony: Up to 4 notes per pad for samples, 2 notes per pad for clips and slicers
16 samples, 16 sequences and 16 song sections per preset
Supports 1 and 2 channel WAV files with 16, 24 or 32-bit resolution at any sample rate (48kHz preferred)
USB MIDI Device In and TRS MIDI In can trigger samples, notes and sequences
TRS Clock In and Out, and TRS MIDI Out for synchronizing with additional instruments
USB powered – can run off a USB power block or wall outlet
Dimensions: 14x13x3 cm
Videos